SoftPerfect Cache Relocator
Quick and easy way to move your Internet browser cache
Internet browsers intensively use a folder on your hard disk for temporary data — browser cache. There are various reasons why some users want to relocate this folder. For example, moving the cache to a RAM disk can speed up browsing, offload the HDD, or reduce the wear-and-tear of the SSD.
SoftPerfect Cache Relocator is a quick and easy way to move your browser cache. This utility is intended to be used in conjunction with SoftPerfect RAM Disk, which offers all the benefits of creating disks in RAM: increase in computer performance, mitigation of the physical disk's wear-and-tear, and reduction of file system fragmentation.
Key features
Simple interface, easy to use.
Portable application, no installation required.
Absolutely free.
Screenshot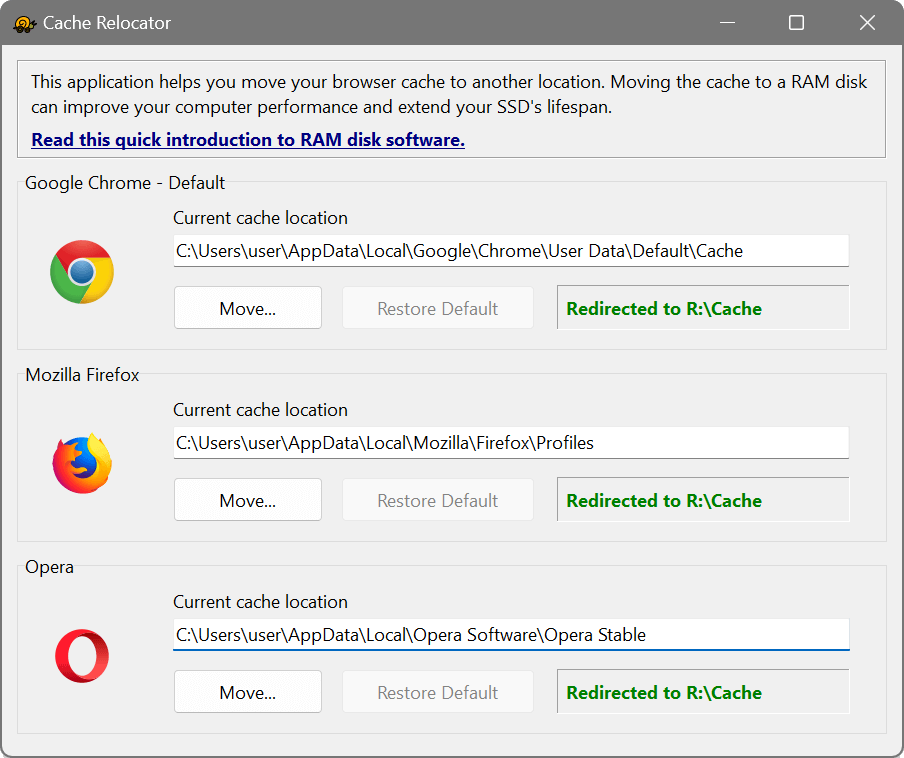 Cache Relocator creates a symbolic link and redirects the cache to the location of your choice.
Product Info & Download
Latest version
1.7 (5 January 2023)
Changelog
Supported platforms
Windows 7 through Windows 11,
Windows Server 2008 R2 through 2022
System requirements
This product is intended for use with a RAM disk application
Licence
Freeware
Download
Size: 2.1M