Reseller Program
We are happy to collaborate with resellers from different countries around the world. Resellers provide their customers with native language support for issues involving our products and give the customers an opportunity to make the purchase in their currency using local payment methods.
How it works
There is no formal sign-up process. You can simply buy the software from us and then re-sell it to your customer. Once you have made your purchase, an electronic licence key is sent to you by e-mail. Depending on your arrangements, you then either forward the licence key to the customer or enter it on the customer's computer(s).
Key terms and conditions
Before making a purchase, you must ensure that you know the correct product name, the licence type and the quantity your customer requires, and that the software product suits your customer's needs and performs well in their environment. No refund will be given if a product is purchased without a satisfactory prior use of its free trial, or if you purchased a wrong licence type or quantity.
There are no special reseller discounts. Our products are sold at regular prices. If resellers provide their customers with additional valuable services and support, they can charge extra at their discretion.
Licence keys are sent by e-mail immediately after your payment is processed. There is no shipment of physical goods.
All licences are valid indefinitely and come with one year of free updates. This means the licence key will not work with the software versions released after one year from the moment of the purchase, but it will always work with the software version it was purchased for and any version released within one year from the day of the purchase. Please note that we do not keep old versions of our software.
Extended updates can be purchased together with the licence and renewed at any time later.
Renewals are not automatic. You will only be charged a one-off licence fee.
How to make a reseller's purchase
Use our regular purchase page to buy a licence. Then proceed to the checkout page and, in addition to entering all other details, select the License to another person option and enter the name and e-mail of the company you are purchasing the licence for into the Licensee name and Licensee email fields: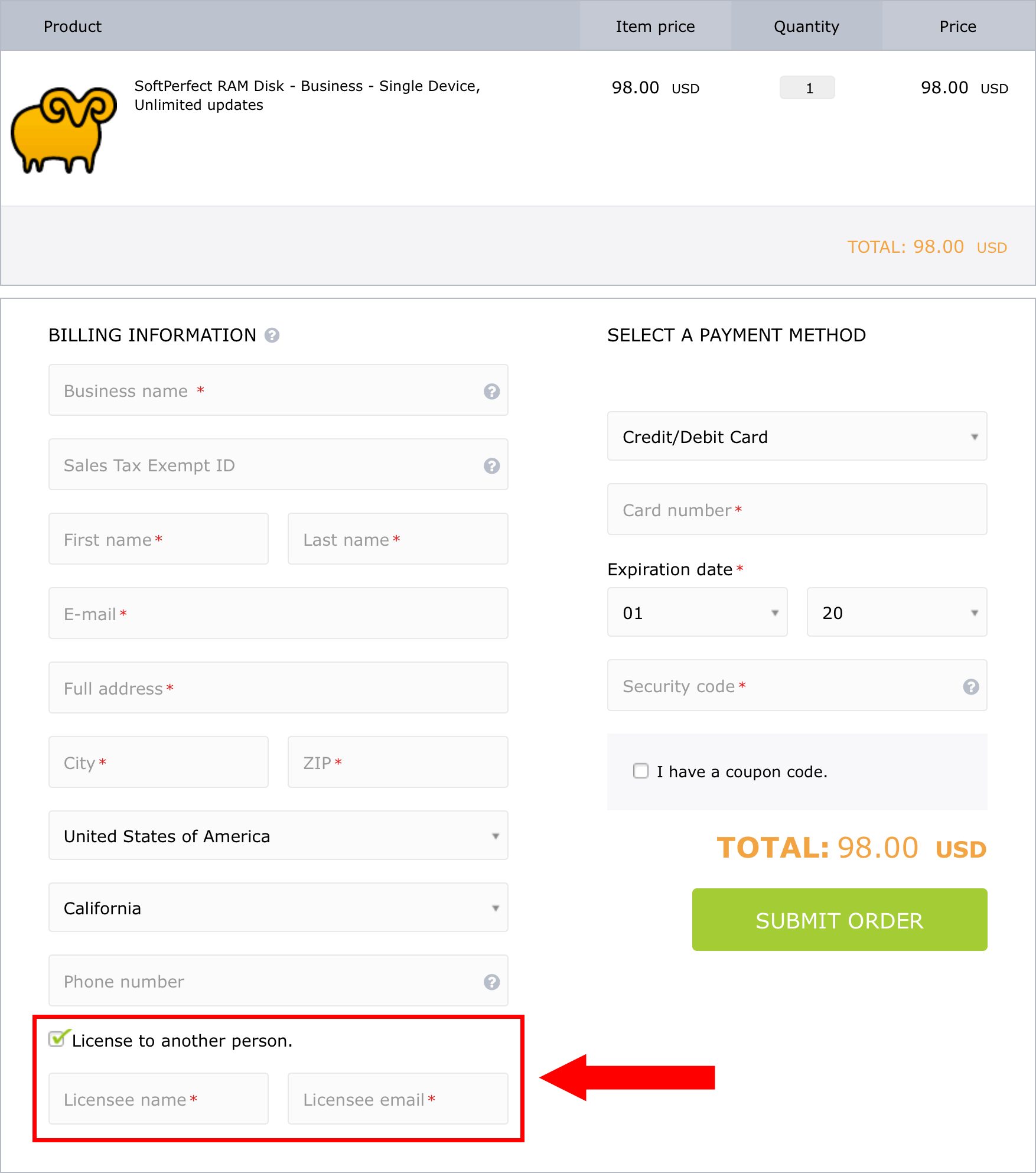 An example of the purchase page. Resellers should pay special attention to the fields outlined in red.
Please contact us if you have any questions regarding the reseller program.