SoftPerfect File Recovery
Restore deleted files on NTFS and FAT drives
SoftPerfect File Recovery is a free and simple tool for restoring files and rescuing data that was accidentally deleted from hard disks, USB flash drives, CF and SD cards and other storage media. It supports the popular file systems such as FAT12, FAT16, FAT32, NTFS and NTFS5 with compression and encryption.
If some important files disappeared and you can't find them in the bin, don't panic yet. Try SoftPerfect File Recovery utility. It is very easy to use. Simply download the File Recovery to a USB flash drive or another disk, avoiding copying or downloading anything to the disk where the files are missing. Then run the File Recovery .exe file, search for the missing files in the location they were before, and see if it can help to restore the deleted files.
This is now a discontinued product. There will be no further updates, releases or support provided for this software. You can still download the last available version and continue using it for as long as you like, however some functionality may not work correctly on newer systems.
Key features
Lightweight and free.
Works with FAT and NTFS.
Supports compressed and encrypted volumes.
Recognises most storage media.
Portable software, no installation required.
Screenshot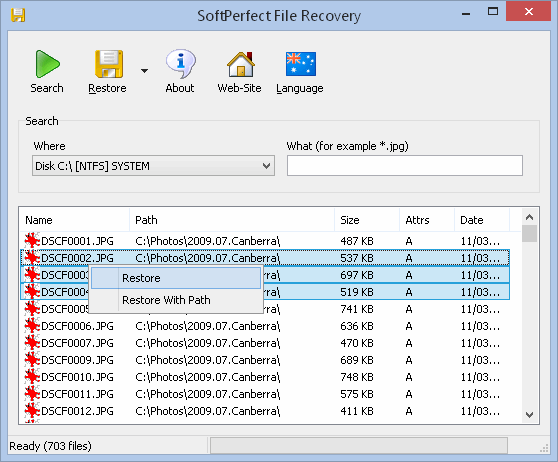 The simple and easy-to-use interface of SoftPerfect File Recovery
Product Info & Download
Latest version
1.2 (19 December 2018)
Supported platforms
Windows XP through Windows 11
Licence
Freeware
Download
Size: 579K