Getting started
Once you start the application, you will see its main window: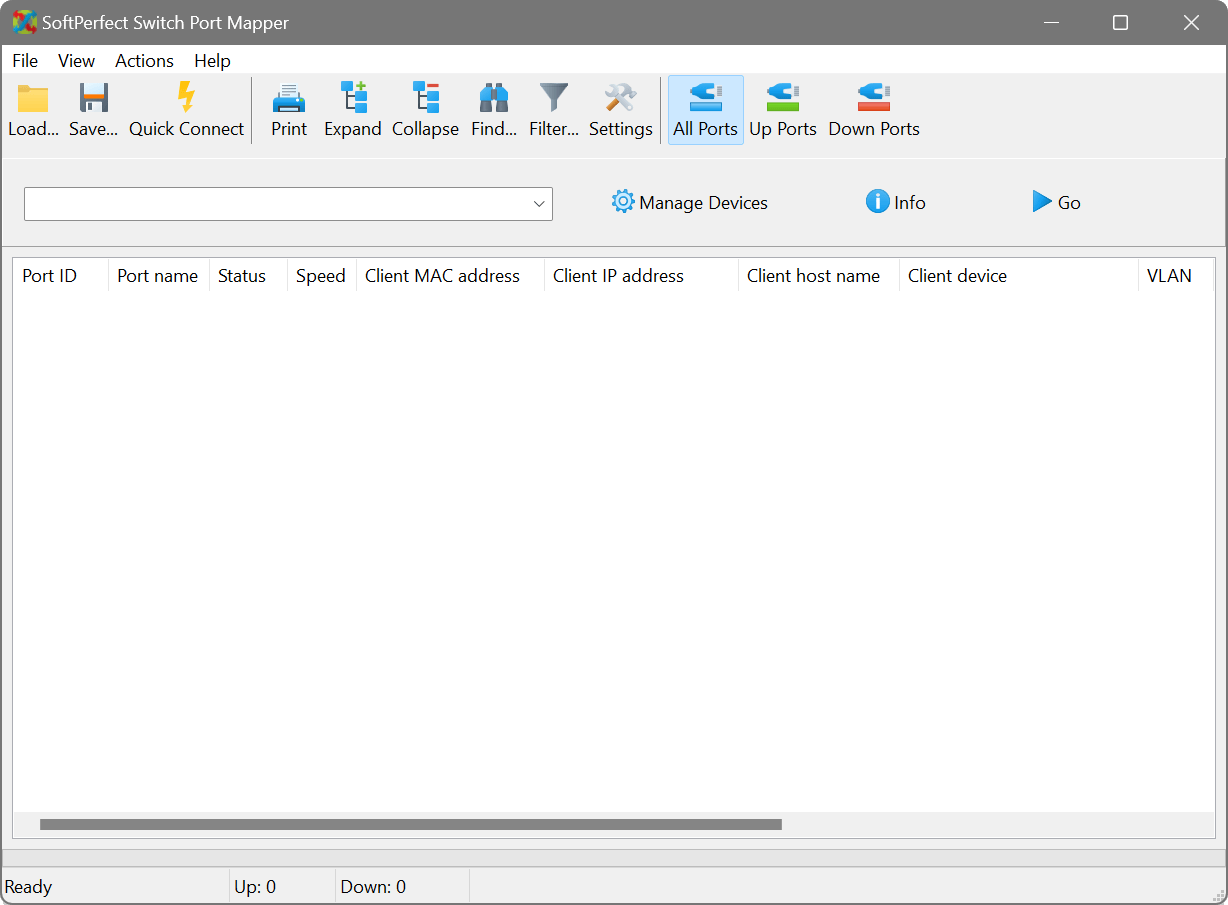 First of all, you need to configure the Port Mapper to connect to your switch and optionally your router. This can be done in two ways:
If you have more than one device, it's a good idea to add them in the device list for quick access in the future. To do so, choose File – Manage Devices.
If you only have one device or do not wish to store device details, choose File – Quick Connect.
In both cases, you will be asked for a host name and the credentials for your devices. It is important to understand that the software uses SNMP to access network equipment, which means only managed hardware is supported and it must have SNMP enabled.
Adding a device
To add a device, or a pair of devices click Add in the device manager.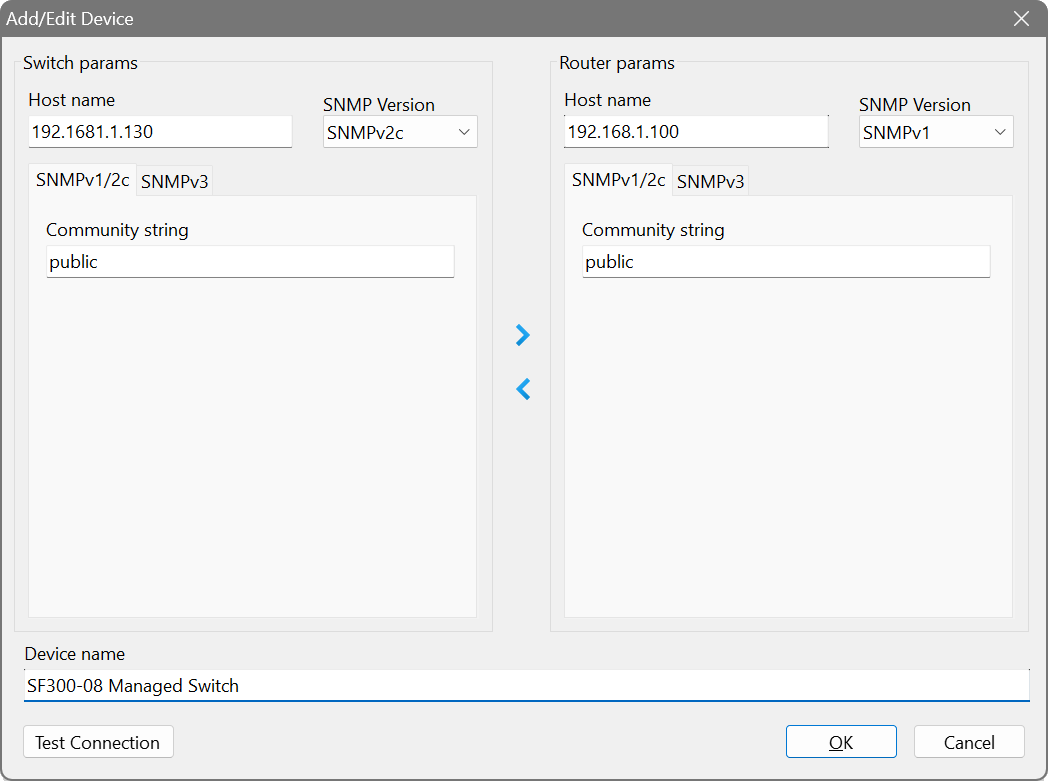 Enter the host name of a switch whose port mappings you want to receive. Then choose an SNMP version that your switch supports. It is recommended to choose SNMPv2c or SNMPv3 wherever possible as these versions of the protocol support bulk operations.
For SNMPv1 and SNMPv2c you will need to specify a community name. It acts like a password for the device access.
For SNMPv3 it is a bit more complicated. The third version of the protocol supports secure authentication and data encryption. You will need to choose a cipher, a hash algorithm and one or two passwords, depending on the required security level.
If you require IP information to be displayed, you can also specify a router (see the Getting Mappings section below for details).
Clicking Test Connection will display basic device information: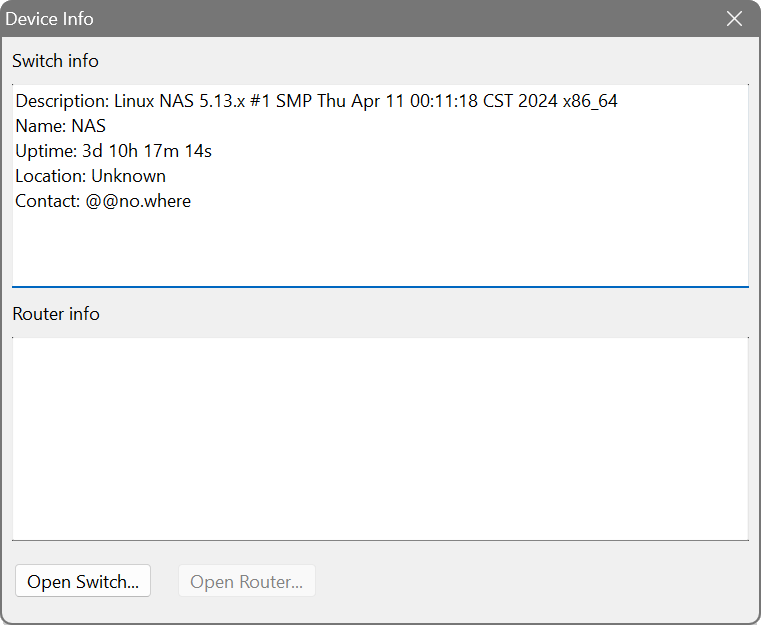 Quick connect
The Quick Connect panel allows you to pull switch port mappings without having to store it in the device list. In this case there is no need to choose an SNMP version. The software attempts to connect to the device(s) with SNMPv2c and if it fails, it uses SNMPv1.

Getting mappings
Once you have configured your switch's connection details, and optionally your router's, you are good to go. So click Go.
The software will connect to the switch and pull a list of available ports, their speed, duplex status and other information. It will also pull a list of MAC addresses connected to each port.
After that (in fact, in parallel), the software will either connect to your router if you have configured it and pull a list of IP-to-MAC address mappings, or scan the current subnet for this information.
Once the Port Mapper has retrieved the required information, it cross-references the received data. The list of MAC addresses received from the switch is matched against the list of IP-to-MAC address mappings. At the final pass, those IP addresses are resolved into host names.
If there is no mapping information for a specific MAC address, you will only see Client MAC address, without IP information or host name.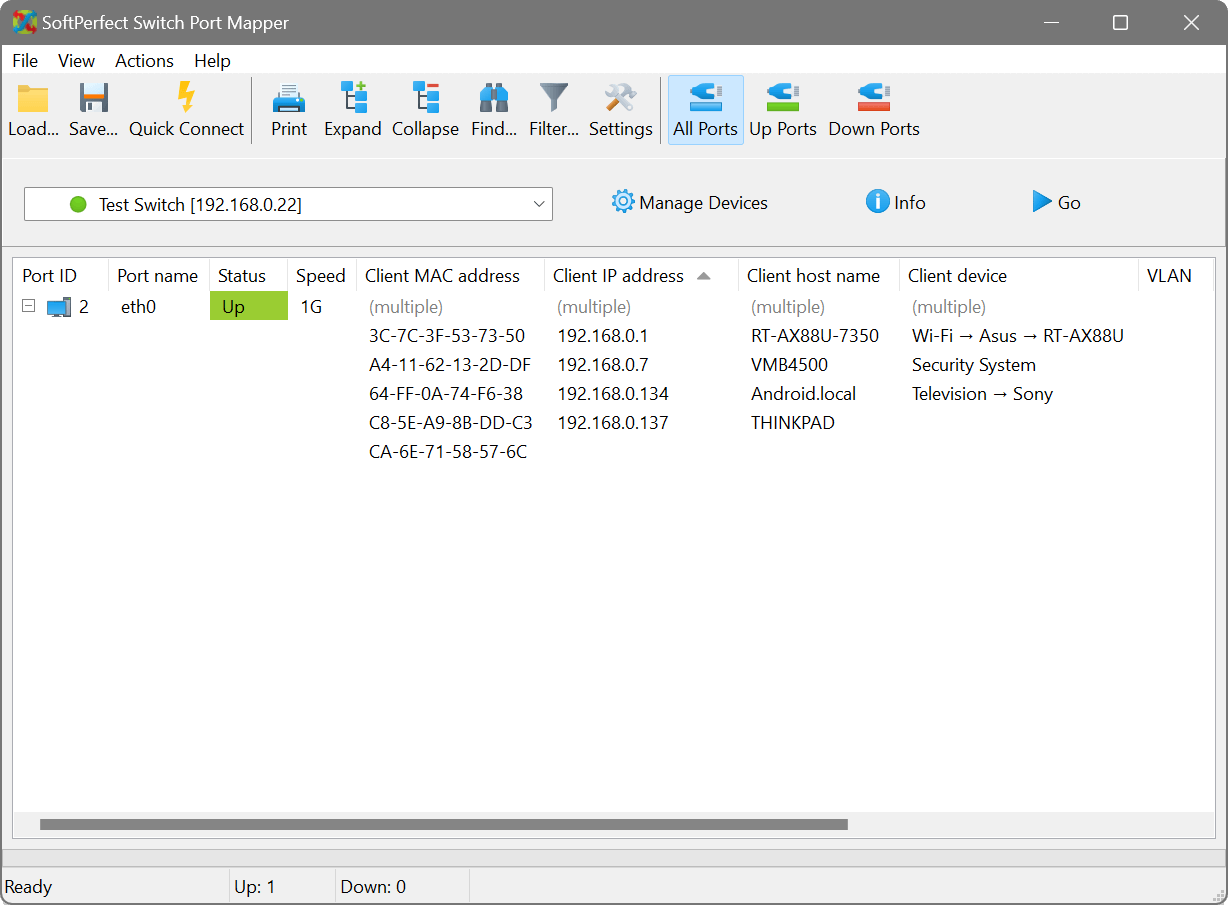 Third-party applications
The Port Mapper allows you to quickly launch third-party applications for troubleshooting and testing. Select a row where an IP address is present and you will be able to launch an application to connect to that IP address or test connectivity: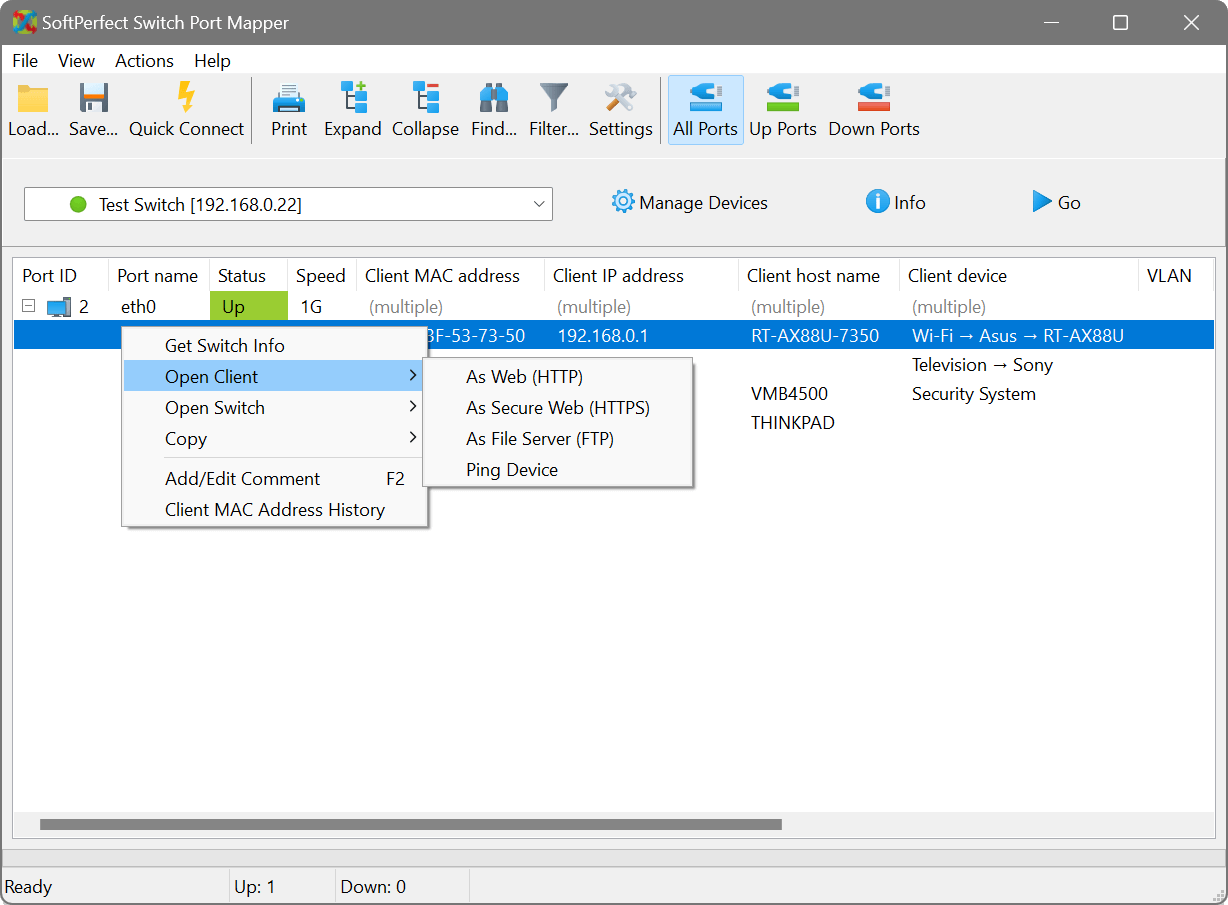 More applications can be added in File – Settings & Preferences.
Comments
The software allows you to have comments assigned to an IP address, MAC address or a switch port. Right-click a row and choose Add/Edit Comment to add or update a comment.
Comments assigned to a MAC or IP address are treated as global. You will see the comments, even if these MAC or IP addresses are pulled from a different switch. Comments assigned to a switch port are specific to that switch.
Console version
Almost identical functionality is available through the console version of the Port Mapper software. The console version does not have a list of devices, so their credentials need to be passed in a command line: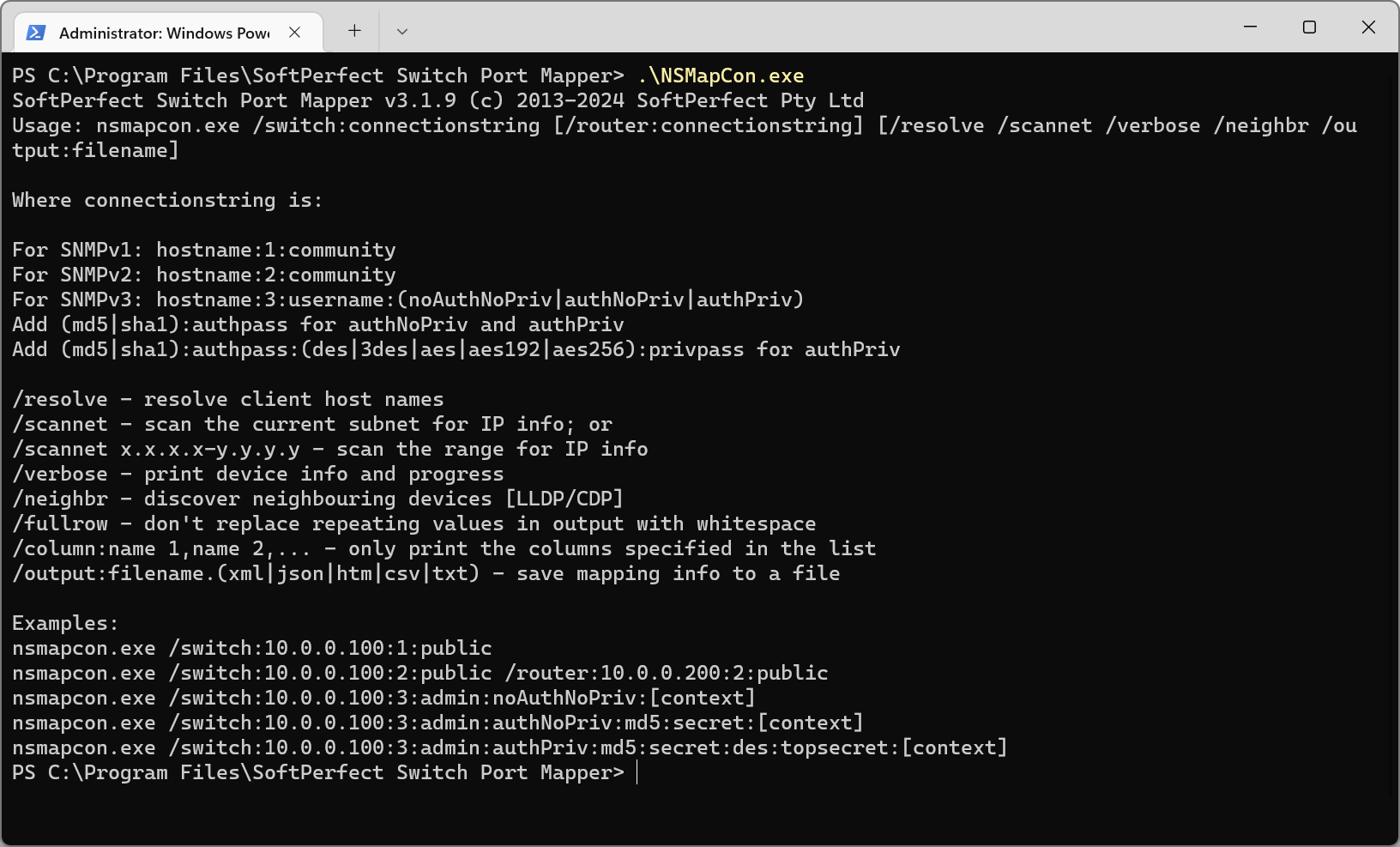 Launching the console version without parameters displays parameters syntax.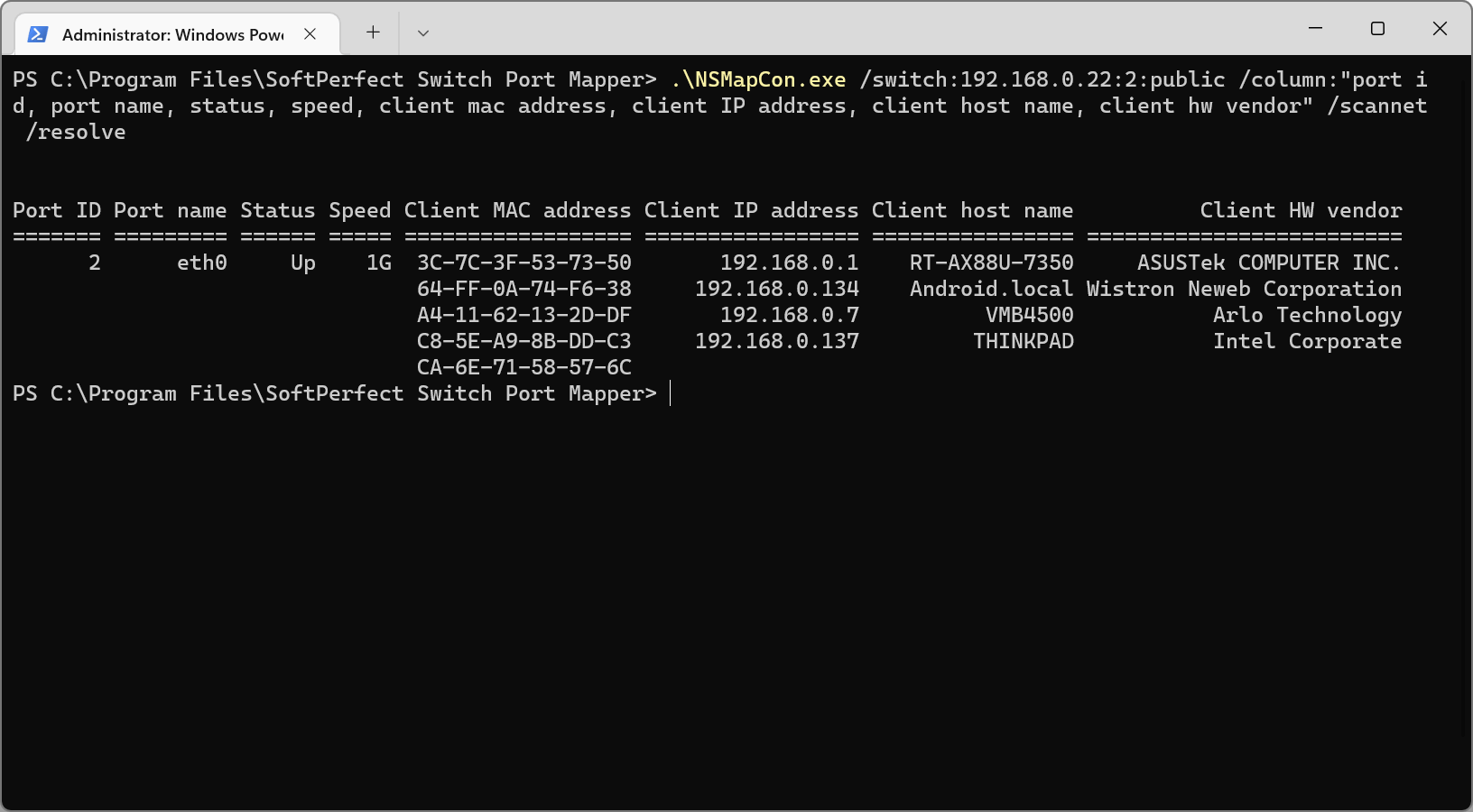 In this example we retrieve the same information using the console version.
Licence keys
In the GUI version, a licence key to remove the trial restrictions can be entered in Help – Enter Licence Key.
To apply a licence key to the console version, copy the key's contents between the tags as shown below and save it as a *.key file with the same name as the console executable. Usually it will be NSMapCon.key.
------ KEY BEGIN KEY ------
...key's contents...
------ KEY END KEY ------
End User Licence Agreement (EULA)
This software and the included documentation is copyright SoftPerfect Pty Ltd. All rights are reserved. The software may be used, installed or copied only in accordance with the terms of the licence described in the following paragraphs.
DISTRIBUTION TERMS
The evaluation version of the software may be freely distributed, provided that the original distribution package is not modified in any way.
EVALUATION VERSION
This is not free software. You are hereby licensed to use this software for evaluation purposes without charge. The evaluation version may be of a limited duration, or have some features limited or disabled. To use the software without these restrictions, you need to purchase a licence.
GRANT OF LICENCE
The software is licensed, not sold. Upon purchase of a licence, SoftPerfect grants you non-exclusive, non-transferable right to use the software and all its features according to the terms of this EULA and the purchased licence type as described in the Licence Types section.
LICENCE TYPES
Single Device Licence grants the purchaser, or agents of the purchaser, rights to install and use the software on one device only (e.g. computer, server, USB flash drive or virtual machine) at any given time. To install and use the software on more than one device, you must purchase the corresponding number of single device licences or one of the special licences listed below.
Multiple Licence Pack grants the purchaser, or agents of the purchaser, rights to install and use the software on up to as many devices as is stipulated by the quantity in the pack. For example, the "Up to 10 Devices" pack allows installing and using the software on up to ten devices.
Site Licence grants an organisation, or agents of an organisation, rights to install and use the software on an unlimited number of devices within one organisation site, including any cloud-based installation and use performed from that site. An organisation site is defined as a location, or group of locations, used by the organisation that are all within 100 miles (160 kilometres) of each other.
Worldwide Licence grants an organisation, or agents of an organisation, rights to install and use the software on an unlimited number of devices at an unlimited number of locations used by the organisation, including any cloud-based installations and use performed from those locations. If not listed, please contact us for the worldwide licence price.
OEM Licence grants an organisation, or agents of an organisation, rights to use and distribute the software with their own hardware or software products. These products must provide substantial additional functionality to this software, and not include any potentially unwanted programs.
Where applicable, additional licence subtypes include:
Home Licence grants a private individual rights to install and use the software at home, that is in a place of residence, for domestic purposes with no intention to generate income.
Business Licence grants an organisation (a company, corporation, firm, enterprise or institution, or part thereof) or a person rights to install and use the software in a commercial and non-commercial environment for the purposes of or in connection with running a business, supplying products or services to other organisations or individuals, or generating income.
DISTRIBUTION OF LICENCE KEYS
Except for the specific purposes described in the Grant of Licence and the Licence Types sections, licence keys issued by SoftPerfect may not be distributed by any person, organisation or their agents without written permission from the copyright holder.
MODIFICATIONS
Unauthorised modification, decompilation or reverse engineering of the software or any subset of the software without written permission from the copyright holder is strictly prohibited.
USE
This software is distributed "as is". No warranty of any kind is expressed or implied. You use it at your own risk. In no event shall SoftPerfect or its agents be liable for any loss or inaccuracy of data, loss or interruption of use, or cost of procuring substitute technology, goods or services, or any other loss or damages.
You may not use this software in connection with any illegal, fraudulent, infringing, harmful or offensive activity.
TERMS OF ACCEPTANCE
Installation or use of this software signifies your acceptance of the terms and conditions of the licence. If you do not agree with them, you must stop using and remove the software from your devices. SoftPerfect reserves all rights not expressly granted here.