SoftPerfect Mobile Broadband Toolkit
Online User Manual
Getting started
SoftPerfect Mobile Broadband Toolkit offers several features described in this brief manual.
When you launch the application, you will see the main screen: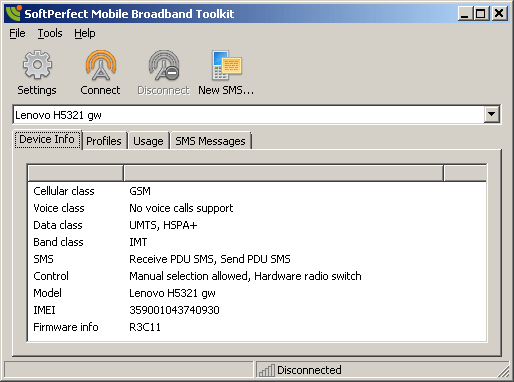 The Device Info tab shows the functionality and system information of your modem. The Profiles tab features a list of configured access profiles and their parameters. The Usage tab displays download and upload statistics. The SMS Messages tab allows you to send and manage text messages.
Detecting connection drop-outs and reconnecting
If you have a situation when your modem loses connection or the connection stalls, you can configure the software to test if the Internet is accessible by checking one or more popular web-sites. If those sites are unavailable, the toolkit may attempt to re-connect to the cellular network. If this did not help, the application may also restart your computer, which sometimes helps resolve connectivity issues. This behaviour can be configured in the Settings: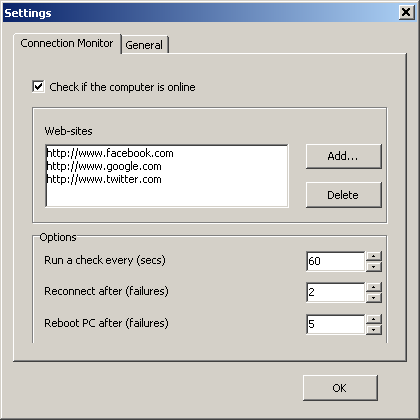 If you choose to reboot the computer after a few failures, your system should to be configured to login automatically, with the Mobile Broadband Toolkit set to start with Windows. This may be useful when, for example, the computer is left unattended. If you want to turn off one of the actions, set the failure count to zero.
Monitoring data usage
This feature displays how much data you have downloaded and uploaded within the day and the month. The reporting is instant and allows you to mind the data traffic, stay within limits and avoid excess charges.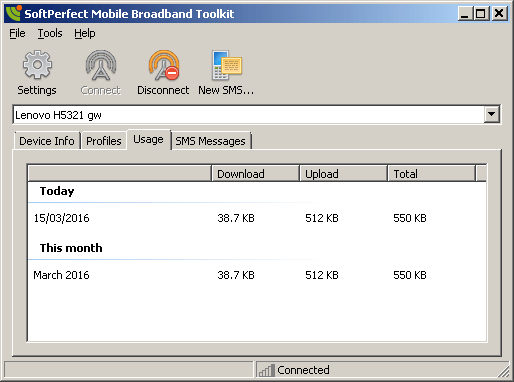 Sending and receiving SMS
The SMS Messages tab displays your received and sent text messages. You can send a short, long or Unicode text message to any mobile number. It will be sent from the number allocated to your SIM card and the recipient can respond to it. Charges may apply, depending on your provider and connection plan.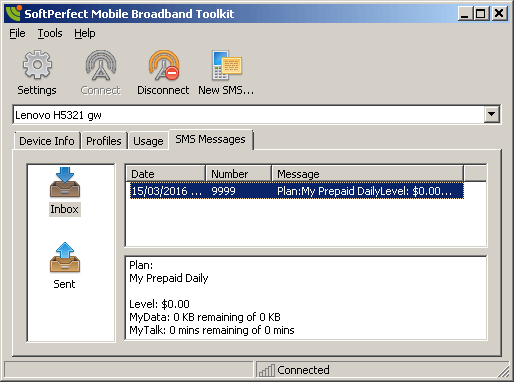 There is no need to be connected to the broadband service to send or receive messages. In fact, some modems may not be able to send or receive text messages while being connected. In this case any sent messages are queued and delivered when possible.
End User Licence Agreement (EULA)
This software and the included documentation is copyright SoftPerfect Pty Ltd. All rights are reserved. The software may be used, installed or copied only in accordance with the terms of the licence described in the following paragraphs.
GRANT OF LICENCE
This software is FREEWARE. Permission is hereby granted to anyone to install, use, copy, publish, and distribute copies of this software free of charge, provided that the original software is not modified in any way.
MODIFICATIONS
Unauthorised modification, decompilation or reverse engineering of the software or any subset of the software without written permission from the copyright holder is strictly prohibited.
USE
This software is distributed "as is". No warranty of any kind is expressed or implied. You use it at your own risk. In no event shall SoftPerfect or its agents be liable for any loss or inaccuracy of data, loss or interruption of use, or cost of procuring substitute technology, goods or services, or any other loss or damages.
You may not use this software in connection with any illegal, fraudulent, infringing, harmful or offensive activity.
TERMS OF ACCEPTANCE
Installation or use of this software signifies your acceptance of the terms and conditions of the licence. If you do not agree with them, you must stop using and remove the software from your devices. SoftPerfect reserves all rights not expressly granted here.