SoftPerfect Network Scanner
Multipurpose network administration tool for Windows and macOS
SoftPerfect Network Scanner is a fast universal IPv4/IPv6 scanner with an extensive range of options and advanced features for system administrators and general users interested in computer security. This powerful program can ping computers, scan ports, discover shared folders and comes with flexible filtering and display options. It can retrieve practically any information about network devices via WMI, SNMP, HTTP, SSH and PowerShell.
In addition, it can scan for remote services, registry, files, performance counters and so on. The results can be exported to a variety of formats from XML to JSON.
WARNING! SoftPerfect Network Scanner is now commercial software. To facilitate further development we introduced a licence fee.
If you install this update over a freeware version, you will get a feature-limited demo and need to purchase a licence to remove the limitations.
We understand that not everyone may be happy with this change, but purchasing a licence will help us continue the development of the Network Scanner. To thank our existing users, we offer them a 50% discount for a limited time.
Key features
Performs a ping sweep and displays live devices.
Fully supports both IPv4 and IPv6 discovery.
Detects hardware MAC-addresses, even across routers.
Detects hidden shared folders and writable ones.
Detects internal and external IP addresses.
Scans for listening TCP ports, some UDP and SNMP services.
Retrieves currently logged-on users, configured user accounts, uptime, etc.
Supports remote SSH, PowerShell and VBScript command execution.
Launches external third party applications.
Exports results to HTML, XML, JSON, CSV and TXT.
Supports Wake-On-LAN, remote shutdown and sending network messages.
Retrieves any system information via WMI, remote registry, file system and service manager.
Screenshots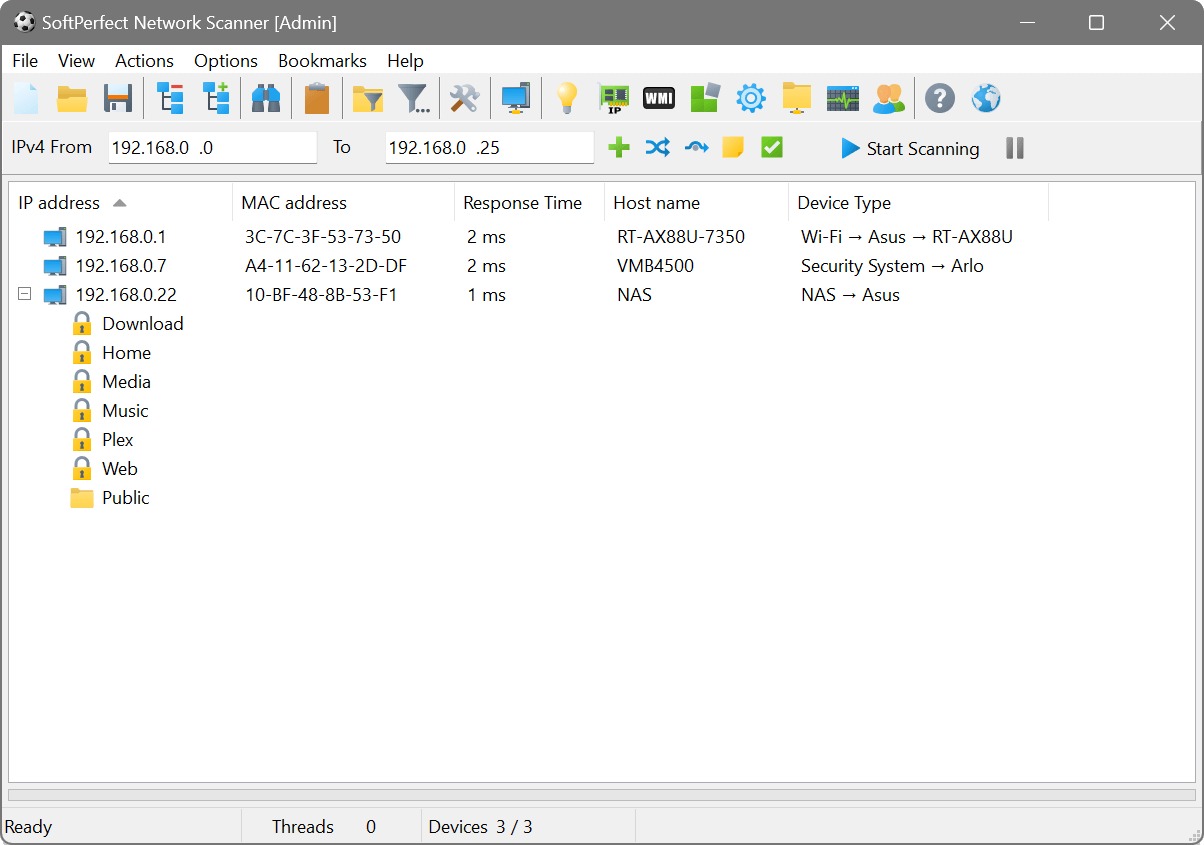 Main application window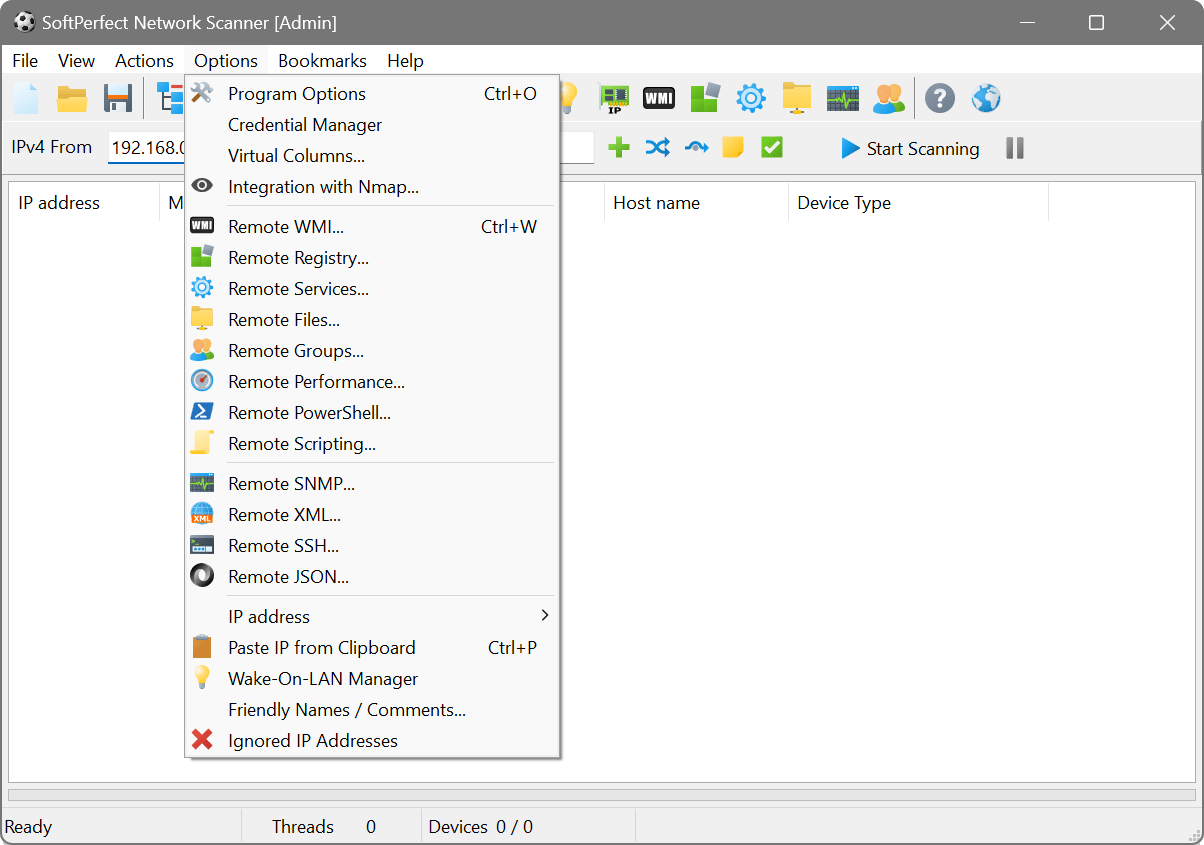 Main application window with the Options menu expanded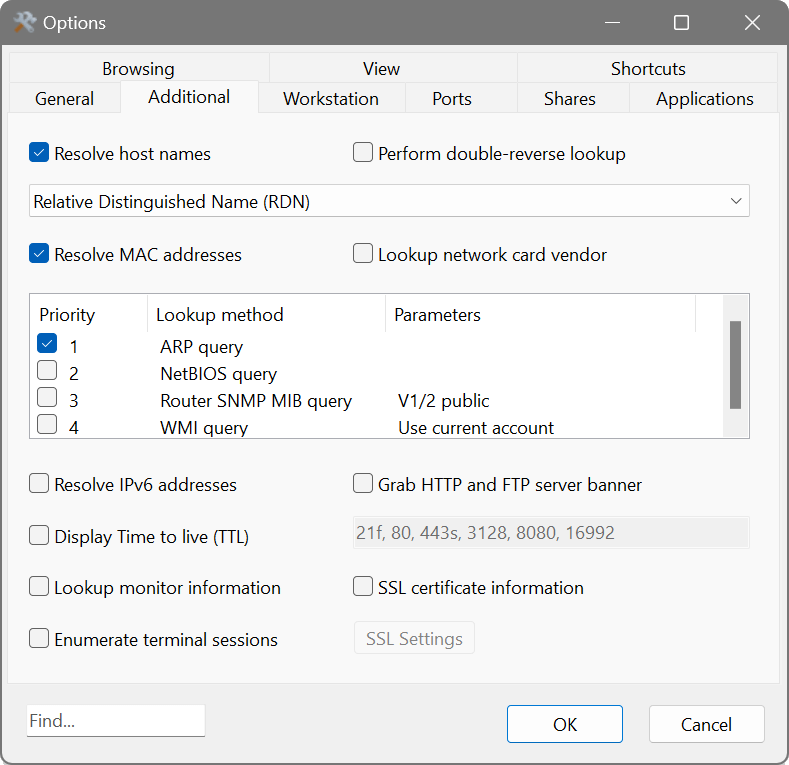 Additional options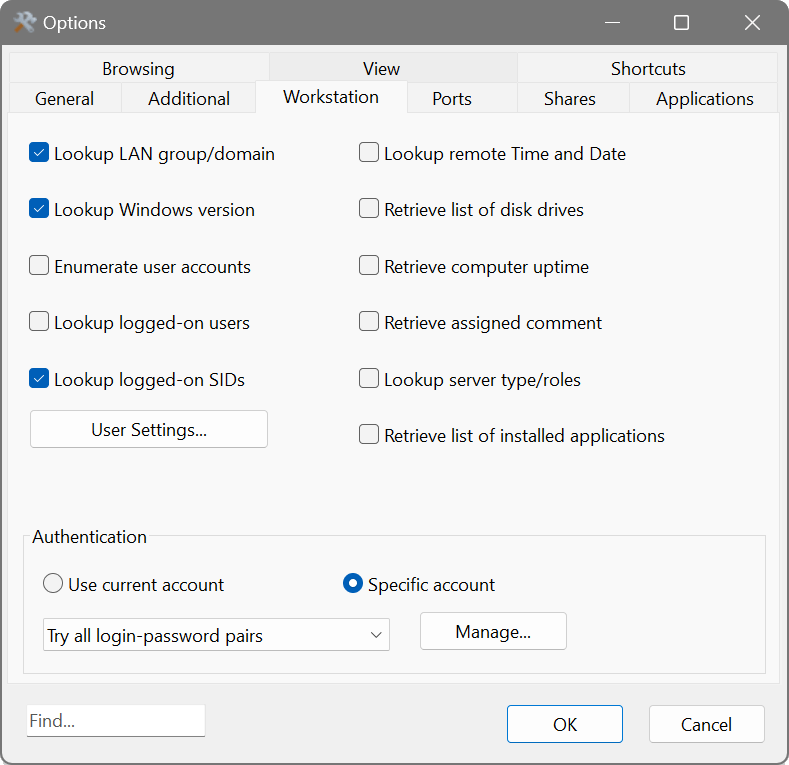 Workstation options
Product Info & Download
Latest version for Windows
7.0.9 (08 August 2017)
Changelog
Latest version for macOS
1.0.1 (15 September 2017)
Changelog
Supported platforms
Windows XP through Windows 10,
Windows Server 2003 through 2016,
macOS 10.7 or higher
32-bit and 64-bit
Licence
Commercial
Unlimited duration trial with maximum of 10 devices displayed
Download free trial
Size: 4.0M
Size: 5.4M
Size: 9.8M