LAN Search Pro User Manual
About
Help
Getting started
This is the main program window you see when you run LAN Search Pro: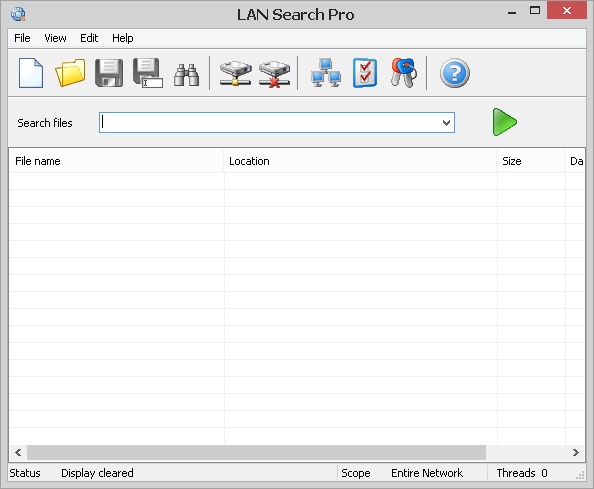 The program controls are as follows:
| | |
| --- | --- |
| | Clears the search results |
| | Loads previously saved search results |
| | Saves the search results |
| | Exports the search results to an HTML, XML or CSV file |
| | Searches within the results |
| | Maps a network drive |
| | Disconnects a network drive |
| | Search scope |
| | Application settings |
| | Passwords management |
| | Opens the help file (displays this text) |
You can use LAN Search Pro to search in your local area network using wildcards. The rules are the same as for MS-DOS and Windows. For example:
s*.mp3 finds all MP3 files whose names start with s
*.doc finds all files with the DOC extension
music finds all files that contain music in their names, e.g. "my music", "MusicCool.wav" etc.
You can search using several wildcards at a time by separating them with semicolons.
File operations
You can perform the following operations with the found files (right-click a file name to bring up the context menu and select an action):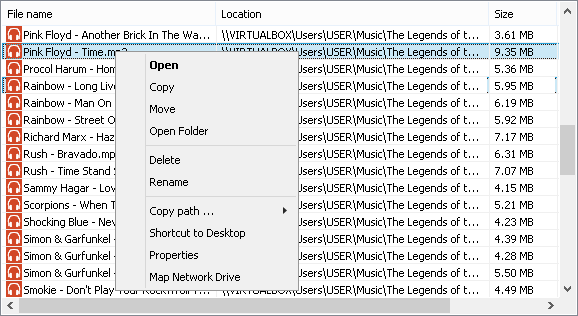 Open opens (launches) the file.
Copy copies the file(s) to a local disk.
Move moves the file(s) to a local disk.
Open folder opens the folder containing this file.
Delete deletes the file(s).
Rename renames the file.
Copy path copies a selected path to the clipboard.
Shortcut to desktop creates a shortcut to the file on your desktop.
Properties opens the File Properties dialog.
Map network drive maps a network drive to folder containing the file.