LAN Search Pro User Manual
About
Help
General settings
Press Ctrl+O or the Options button to open the Options window: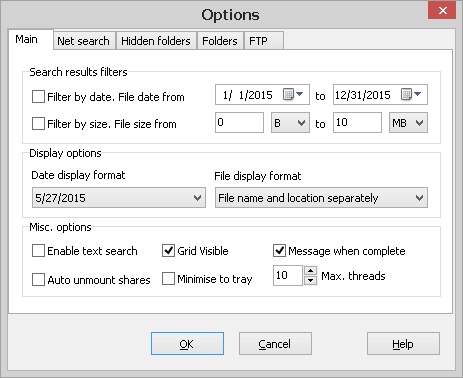 Search filters: use this section to specify additional search criteria, e.g. file date and size.
Display options: for customising the result display.
Max threads defines the maximum number of simultaneous search threads.
Grid enables/disables the display of row and column grid lines.
Minimise to tray: if enabled, the minimised application will go to the system tray.
Enable text search enables file content search.
Auto unmount shares: if enabled, any network drives that were mapped with user name and/or password, are automatically disconnected and you cannot access the files on these resources. Otherwise you need to unmap them manually.
Message when complete displays a message when the search process ends.
Net search
Use the Net search tab to customise the search area: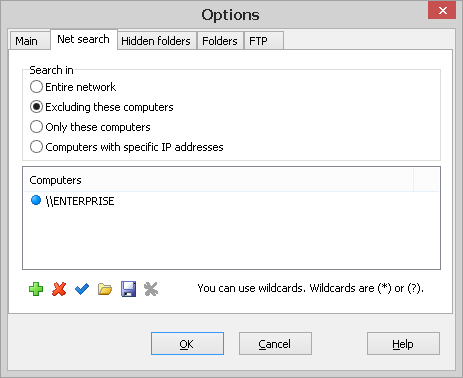 Search in selects the area to be searched:
Entire network searches for files on the entire network.
Excluding these computers searches the entire LAN except the computers listed in the box below.
Only these computers searches only the computers listed in the box below.
Computers with specific IP addresses searches only the computers with IP addresses within the specified range.
The following controls can be used to define IP address search criteria:
| | |
| --- | --- |
| | Adds a computer or IP address |
| | Deletes a computer or IP address range |
| | Edits a computer name or an IP address range |
| | Loads a list of computers or IP address ranges from a file |
| | Saves the list or IP address ranges to a file |
Wildcards
Wildcards are asterisks (*) or question marks (?). An asterisk matches any number of characters. A question mark matches a single arbitrary character.
If you want to search an IP subnetwork, you must specify its IP address range. For example, if you want to find files on computers in two subnetworks 192.168.10.x and 192.168.11.x, just enter these ranges as shown on the picture below. Click the Auto button to determine the IP Address range of your network automatically.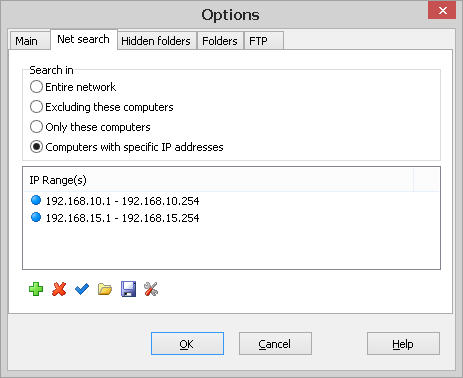 In this case LAN Search Pro will search all computers with IP addresses from 192.168.10.1 to 192.168.10.254 and from 192.168.15.1 to 192.168.15.254.
Hidden folders
Use Hidden folders tab if there are hidden resources in the LAN and you want LAN Search Pro to discover them: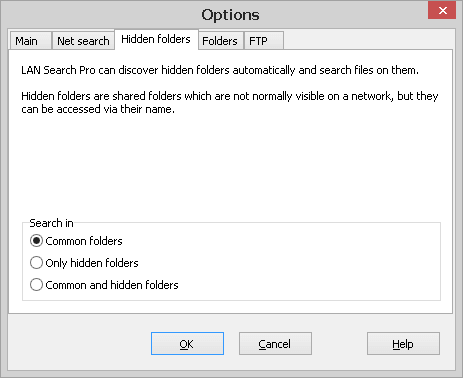 Folders
Use the Folders tab to specify the folders to be searched. You can specify the maximum number of nested folders to restrict the search: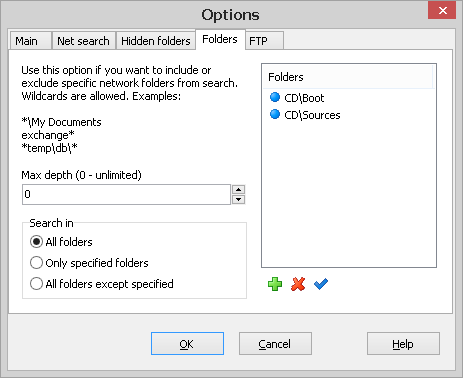 FTP options
Use the FTP tab to enable search on anonymous LAN FTP servers: